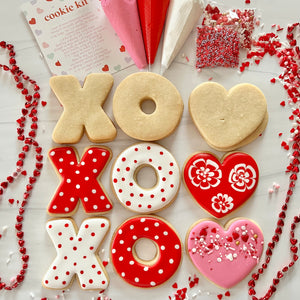 You"ll be decorating cookies with all kinds of sweet designs when you grab our DIY Valentine's Sugar Cookie Decorating Kit. 
Kit includes: Two hearts, two x's and two o's sugar cookies, three piping bags filled with our pre-made royal icing, two package of sprinkles. Please note, icing colors may vary between each kit. 

If you are in Oceanside, CA we offer no contact front door delivery free of charge! Choose LOCAL DELIVERY at check out.  
We work hard on our cookies and we don't want them to break any more than you do. As much as we would love to prevent breakage, unfortunately, there is no way for us to totally prevent cookies from breaking during transit.

We are not responsible for USPS, UPS, or FedEx for mishandling or damaging your package. Once the box is shipped, our shop cannot be held responsible for mishandling packages. If your package becomes lost or damaged due to their negligent actions, please take photos of the damage and start the process of filing a claim to recoup part of your funds. 
**********Allergy statement: Menu items may contain or come into contact with WHEAT, EGGS, PEANUTS, TREE NUTS, and MILK.*****************