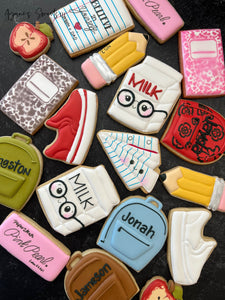 This listing is for 12 sugar cookies. 
Shapes: Shoes, pencil, notebook paper, backpack, composition notebook, milk cartons, paper airplanes. 
Cookie size: 3.5 to 4.5 inches
Reignite the spirit of routine and learning as kids step back into their pre-summer groove with our enchanting Back-to-Normal Encouragement Sugar Cookie Boxes. 🌟 Thoughtfully curated to add a touch of motivation to their day, each box contains a collection of exquisitely decorated sugar cookies, each adorned with uplifting messages like "Embrace the journey" and "You've got this, superstar!"
These scrumptious treats not only tickle the taste buds but also warm the heart, providing a sweet reminder that every day is a chance to shine. From school buses and books to pencils and chalkboards, our cookies are meticulously crafted to bring a smile to their faces and a boost of confidence to their steps.
Whether tucked into lunchboxes or savored after a day of learning, these sugar cookie boxes are the perfect way to show your support and keep their spirits high. Fuel their enthusiasm for the familiar routine with a dash of encouragement that's as delightful as it is delicious. 🍪🎒✨
Baking process
Aujané's sugar cookies are made from scratch and decorated by hand. The cookie dough features real butter, fresh eggs, and almond flavor. The slightly crunchy, sweet, and buttery dough is accompanied by royal icing. Royal icing is a pure white icing that dries to a smooth, hard, matte finish.
Please place your order as far ahead as possible to ensure we can accommodate you. In most instances we can ship cookies within 7 - 10 days of receipt of an order, however, our calendar does fill up quickly and can take up to 3 weeks to receive your order. Please refer to your "Ship by date" sent to your email address you used to place your order. For large orders and near holidays, orders placed less than 14 days may not be able to be fulfilled. Orders that can not be accommodated for whatever reason will be canceled and refunded in a timely manner. Please send us a message or give us a call for more information about our current availability. 

Packaging
Aujané's cookies are individually packaged in heat-sealed clear FDA bags and wrapped in bubble wrap. For an additional charge, a ribbon of your choice can be added as a finishing touch. ORDER COOKIES AT YOUR OWN RISK, we are NOT responsible for BROKEN COOKIES! 
Shipping
Standard shipping is by United States Postal Service (USPS) Priority Mail 2 - 5 days. When your cookies ship, you will be provided with a tracking number. If you need your cookies shipped using a faster service, please contact us before ordering to discuss available options. Please keep in mind that baking and packaging time can take up to 2 weeks during busy periods. Due to the handmade and custom nature of our cookies, they cannot be shipped immediately after purchase. 
Cancellations and Returns
Cancellations are accepted on orders up to 1 week before the requested ship date. Returns are not accepted due to the nature of the product. If you are not satisfied with your order, please contact us and we will do everything we can to rectify the situation. 
Aujané's cookies are produced in a facility where nuts, dairy, and soy are present. Please do not purchase our cookies if any of these ingredients present a problem for you. Thank you.